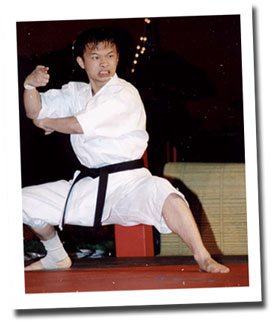 On March 18, after weeks of rain showers, the black clouds parted, the sun made its appearance as if on cue and the Bay Area Challenge got underway. Familiar faces dotted the crowd as competitors and families greeted each other at this season's first Bay Area AMAPA/NBL tournament. The Vallejo, California Fairgrounds was the venue and it was bursting to capacity early on for underbelt competition. Promoter, Geoffrey Quares, could be seen dashing from place to place seeing to last minute details. Underneath his greeting smile, however there was sorrow at the news that morning that one of his nine year old students had passed away from an illness. After dedicating the tournament to her, Quares and staff valiantly carried on.
As blackbelt forms started, the perennial Bay Area competitors Jerico Catura, Scott Wu, Rodney Carreon, Jason Cortez, James Solis and Hans Wikkeling could be seen warming up. In their midst were Jake Lysgaard from Las Vegas and Mathew Okada, who made the trip up from Southern California. Briana Lewis took first place in the eleven years and under junior hard creative forms while Branlee Querahin won in the 12-17 year old division. Branlee went on to win the junior contemporary forms grand championship. Meile Keck won a tie run-off against Precious Gatela to take the junior Japanese forms division. In the highly contested junior kenpo/kajukenpo division Ryan Matsumura emerged victorious. Jake Lysgaard made his trip worthwhile by taking first in junior Korean forms and then becoming the junior traditional forms grand champion. Jerico Catura and Scott Wu won the adult contemporary and traditional grand championships.

Bay Area competitors came out in force for sparring. In blackbelt fighting, Brandon Smith edged out his rival Jarell Calvin in junior 10-11 year old sparring while Alexander Arceo fought to the top of the 12-13 year old division. After the defeat of his brother, Jason, Jamal Albini hung on for the win in the highly competitive 14-15 year old division. Matthew Okada took the 16-17 year old division with a hard-fought 9-8 victory. Meagan Molo, Alyce Lysgaard, and Jasmine Naraja won junior girls' blackbelt sparring divisions.

Troy Whaley's experience and timing succumbed to the speed of the younger Sean Arceo who won the men's featherweight division. Anthony Tejano won men's light weight sparring, while Jack Felton took men's light-middle weight and Deandre Walker secured the men's middle-weight division. Thirty-something John Fox and Tim Gustavson won men's light heavy and super heavy.

Leanne Dumlao surprised Team Gotum's Jessica Varma to take the women's light weight, and in the women's middle weight there was a new sheriff in town as Shanna Morris moved up from juniors this year and handed Jessica Covarrubias an overtime loss.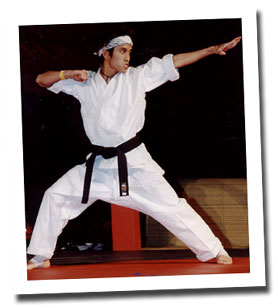 Senior men's heavyweight action was a real crowd pleaser with Ernest Frohm defeating all comers. Jack Felton went on to win the men's sparring grand and Troy Whaley was crowned senior men's grand champion with Leanne Dumlao as the women's grand champion. Of note in continuous sparring, Matthew Okada won junior boy's super heavy division while in women's light weight Tara Kermaninejad overcame penalty points to edge out Shanna Morris 40-39. In team sparring the combination of Kyle Richards, Jack Felton and Damon Gilbert as Team World Champ proved too much for Team GQ who settled for second place.

As the sun faded in the West, the third annual Bay Area Challenge ended on a high note as competitors said their good-byes promising to meet again next month at the Golden Gate Nationals.