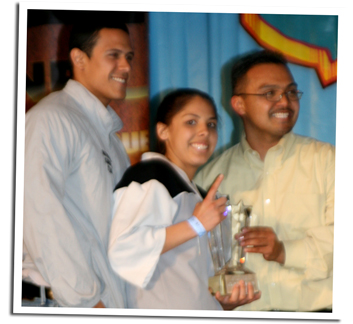 Golden Gate Internationals sets the stage for the 2008 NBL season

The NBL WestPac started its 2008 season with Jordan and Felipa Pallen's Golden Gate Internationals. This year's event was held on April 18-20, 2008 in Santa Clara, California. It was a new location with a hotel that everyone was ranting and raving about after the event. And, with the 2008 NBL Super Grands scheduled to be held in Sacramento, California, there were many top local competitors in attendance vying for their seed points. The perfect personality coupling of the hilarity of Jordan Pallen contrasted by the quiet reserve of his wife Felipa makes for an event that hits every high - organized, well-decorated and with a touch of inner city hip-hop that made it fun for all involved.


Friday competition got underway with the creative and musical divisions. The exhilarating creative forms of Jerico Catura, Rudy Reynon, and Josh Durbin threw spectators into complete excitement. Rudy Reynon, a local favorite, drew many tournament attendees to his ringside during his weapons performance. Rudy put himself in a great position for the Super Grands by winning all the divisions in which he participated, but was not able to continue on to the finals because he was going to his high school prom that night. Jerico Catura resembled a larger version of Tyler Weaver as he surprised the competitors with a blindfold in his choreographed weapons form. Unfortunately, Catura dropped one of his kamas. In the end, the powerful and musically synchronized strikes of Ashley "Mocha" Davies led her to win the musical weapons division.


Nine teams fought down in men's team sparring. As usual, the team sparring was hard-fought and intense. And, as always can be counted on on the West Coast, there were a bunch of new teams coming out of the woodwork. Team Verizon sported both a men's and boy's team at the event. Team Oceans 11 has picked up a bunch of new players in forms and weapons (Jamie Nakamura is one) but their backbone threesome of Justus Lawrence, Jerry Ryan and Jose Pacheco took the men's team to the finals. Local heavy hitters, Frohms and Team Dumlao were also in the mix.


Saturday competition was full of energy directed towards the traditional divisions, junior choreographed forms, and point fighting. Ashley Davies of Team Unison won the women's Korean division while Jerico Catura came out on top in the men's Korean forms. Andrew Cabilan tied Scott Wu in the Japanese division. After running the two ProRank members again, it was the energetic yells of Andrew Cabilan that put him in first place.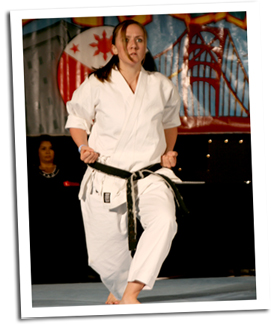 The lighter weight men's divisions were a bit sparse in participation but once you got to the middle weights and above, there were plenty of competitors and lots of talent in the mix. Justus', little brother Dallas Lawrence and uncle Mark all competed in the various divisions with Justus and Mark taking first place wins and Dallas a respectable second. Many of the other divisions were dominated by up and coming youthful fighters. Joshua Pittman, Willie Hicks and Michael Jefferson all took top honors in their divisions. Wade Taylor and Brandon Bertsch were also front runners but they have been in the adult divisions long enough to actually call them veterans now.

The finals began with an acrobatic demonstration organized by California's own James Solis, who is now all grown up and has thankfully cut his hair! Appearing later in the demo were Chris Devera and Loopkicks competitors along with Richard Cali and various ProRank members. Co-promoter Jordan Pallen set the audience into astonishment as he suited up and became the focal point of the demonstration. You can always count on Pallen to jump into the mix and show his enthusiasm for the sport and its competitors.

The Junior Musical Forms Grandchampionship kicked off with the pop star dances in Jarmin Runes' form. Although he entertained the crowd to the song "Flow Rider," a stumble on a 900 hindered the flow of his form. Karina Hipolito of Utah took the grand championship after the judges witnessed her focused presentation and flexibility after showing off her scorpion kick.

The Adult Contemporary Forms grandchampionship began with ProRank's closest thing to a giraffe, Josh Durbin. Durbin won two extreme daytime divisions, so he opted to perform two forms back to back in the finals. After flawlessly completing both his forms, Durbin won the Adult Contemporary Forms grand championship.

Kids sparring was next on stage starting with select junior continuous sparring divisions as the highlight. With the first continuous sparring event, it was Damien Folmer against Alyssa Erickson that ended with Folmer's 44-31 win. Zach Wolcort just barely beat Khalil Simmon 38-35 in the junior middleweight division. Mario Schukaurt and Connor Cordova were matched for the junior light heavyweight division. After Mario pushed Connor off the stage, Connor was able to redeem himself by defeating Mario with a close 46-43 score. Naveed Kermaninejad beat Oscar Hernandez in the junior heavyweight match while Alex Arceo won the super heavyweight match against the giant Kyle Suppes in a 57-17 David-and-Goliath match-up. Stephanie Rosales beat Taylor Malden by six points with a score of 50-44 in the girls lightweight continuous division. Ashley Grant fell far behind Tracy Farnes in the first round and in the second round Grant fought hard but ended just two points shy of Farnes in a 26-24 loss.

Jamie Nakamura and Jacob Ellis were the only two competitors in the junior contemporary weapons division. Nakamura, executed many of Kalman Csokas's signature moves and a Kabel twist. Jacob Ellis' switchblade kama form scored just one one-hundredth of a point short of Nakamura, putting Jamie in first place.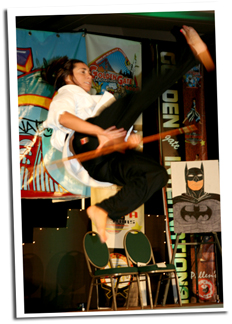 Just after Josh Durbin had a little intimate one-on-one time with his bo, the adult weapons grand championship began with Durbin, Ashley Davies, and Roark Hodson. Davies had won two daytime divisions enabling her to perform twice that evening. However, Josh Durbin's acrobatic maneuvers put him on top to win grands for a second title of the evening.

James Gilbeaux and Eric Reyes fought in the 12-13 boys point sparring finals. There was hardly any contact in the match because both fighters merely flinched almost the entire round. Reyes eventually took the bold initiative of actually trying to score and won the match 1-0. Stephanie Rosales beat Ashlee Grant 2-1 in the girls 13-14 point sparring finals. Daniel Del valle first tied Connor Cordova in regulation in the boys 14-15 point sparring event and then scored the winning point in the sudden victory overtime to finish 8-7.

The junior Japanese division had three competitors: Michelle Simms of Utah, Michael Spizzuco of New Jersey, and Andrew Kowalewski of Idaho. This time little Michelle Simms turned on the intensity to defeat the boys for the grand championship. Mike Spizzuco is looking to finish his junior years with a great 2008 and he started it off well with his grand championship win in the junior Korean grands. He defeated Jordan Simon and Jamie Nakamura, both from southern California. In the junior Kenpo division, the judges concurred with the crowd favorite, Daemon Monroe Robinson. The adult traditional grands had six competitors: Jason Cortez, Ashley Davies, Shantell Dawson, Jerico Catura, Scott Wu, and Andrew Cabilan. Scores were very close between Wu and Cabilan as these two teammates once again went head to head. But again Cabilan from far off Ontario, Canada came out just slightly ahead and won the grand championship.

Adult fighting had some exciting match ups and some common names coming out on top. In the women's grand championship round, Jessica Covarrubias dominated and looks to be the force to be reckoned with on the West Coast this year. Sean Arceo barely made it to the final round to face Justus Lawrence for the grand championship. Lawrence narrowly defeated the taller Michael Jefferson to advance.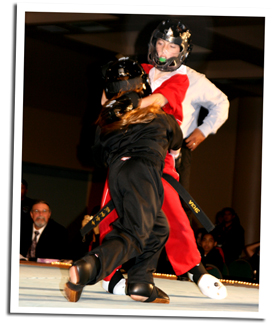 In the final fight for the men's championship, it was Lawrence's strong ax kicks that overcame the speed and cleverness of Arceo to win. But Lawrence, who hails from Utah, wasn't content with one title for the night, his team Oceans 11 was also on stage for the men's team sparring title, facing Team FMA (Frohms' Martial Arts). This one came down to the wire with both teams fought their hearts out. In the end, Frohms showed that a school team can win by taking a 13-12 victory!

The Golden Gate Internationals was a great start to the west coast's NBL season. Based on these kind of results, it's still all up for grabs at the Super Grands this year.